HOTEL'S ACTIONS REGARDING SAFETY & PREVENTION MEASURES FOR COVID-19
YOUR SAFETY IS OUR PRIORITY
As part of the operation of hotels in Greece, Kalavrita Canyon Hotel & Spa re-opens its doors by strictly complying with and adhering to all hygiene protocols that have been introduced by the State.
New hotel policy
Stricter hygiene rules shall apply for all communal spaces (lobby, elevator, handles, communal WCs etc.)
Upon arrival, hotel guests shall be checking-in online on a tablet which is disinfected by our personnel after each use
Hygiene guidelines shall be given to all guests upon their arrival
Antiseptic gel and antiseptic wipes will be available in all rooms upon arrival of the guests at the hotel
Preventive body temperature checks will be carried out for all incoming hotel guests and of course upon request of other guests who stay at the hotel for reassuring purposes
All room key cards will be properly disinfected
All rooms will be cleaned, disinfected and meticulously ventilated upon departure of the hotel guests
Based on the Hygiene Protocol of the Greek Ministry of Health and the Greek Ministry of Tourism, daily cleaning of the rooms is not permitted unless the guest requests so
All soft (fabric) surfaces in the rooms and communal spaces will be cleaned with a steam cleaner (at a 100ο C temperature)
A Disinfection Declaration verifying proper and complete hotel room sterilization shall be handed to all guests upon their arrival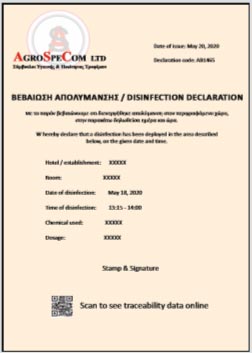 Dining areas: Monastery Restaurant - Golden Bar
Chairs and tables and the general layout of all dining spaces will adjust in order to meet the required conditions and distance requirements
Antiseptic solutions will be placed at the restaurant and bar entrances
Breakfast will be served at the Monastery restaurant based on the a la carte orders placed by the guests
Breakfast hours have been extended to 07.30-11.30
Employees
All hotel employees have been trained in accordance with the hygiene protocols and the protocols on the prevention and control of coronavirus cases
Every staff member must strictly comply with the protective measures against Covid-19 and all employees are properly equipped with all individual protection equipment
Daily body temperature checks and strict compliance to hygiene rules shall apply for all hotel staff
All staff at the hotel are properly trained to manage potential coronavirus cases based on an action plan that has been prepared in accordance with the recommendations provided by the National Public Health Organization.
We shall be adhering to all rules, guidelines and recommendations provided by the competent authorities as we strive to ensure the protection of the health of our guests. We would like to thank you in advance for your trust.
We guarantee your safety and we really wish you have a pleasant stay here!